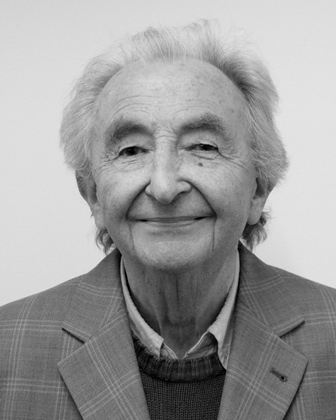 Biography
Dennis Baker, a semi-retired metallurgist and husband of Eileen Baker (YAT's Second President) became involved with the group through their daughter Eleanor. His initial contribution was as a photographer with the task of producing a portfolio of photographs representative of each production. Many of the production photographs from the mid-1980's through to the mid-2000's were taken by Dennis. He once calculated that over a 10 year period he pressed the button on his Olympus 2N well over 5,000 times.
Dennis also used his DIY experience and tools to contribute to the construction of sets for a number of YAT productions both at home and abroad. YAT members who knew him will have fond memories of Dennis nonchalantly walking through the middle of many a dress rehearsal, with 6 foot of plywood and a hammer.
On Friday 14 September 2007, Dennis passed away peacefully at his home in Surbiton.
Testimonial
This was written in 1994.
Eric Yardley embarked, some 24 years ago, on what became a consuming interest following a request from a group of youngsters (with whom he had become involved as Youth Drama Advisor to Richmond Council) for his help in staging a play.
Since that time that time he has nurtured what became known as Youth Action Theatre to its present assured status and staged over 50 productions, some in prestigious overseas locations, including Berlin (twice), Vienna, Kiev and Leipzig.
The productions have ranged from comedies and musicals to dramas with a serious theme and from Shakespeare to contemporary theatre. Over that period some hundreds of youngsters, ranging in age from 16 to 25 years, have benefited from the tuition and opportunities offered to develop their artistic and acting abilities. There are no prior qualifications or costs involved in joining YAT, only a commitment to the Company. It is, however, Eric Yardley's fervent belief that the experience offered by YAT is not only artistically instructive but is conducive to the development of personal character and emotional balance; it develops selfconfidence, provides a constructive purpose, and imparts a sense of discipline, dedication, and awareness of the needs of others to its participants. It is, of course, a feature of the task that Eric Yardley has undertaken that it has no end - as one generation moves on it is replaced by a fresh intake of aspiring actors or back-stage workers.
Many of those who have enjoyed their time within YAT have gone on to study Drama at College or University and some are now following a career in the profession as actors, back-stage staff or administrators in TV, Film and Theatre. As parents we were able to witness, at first hand, how our youngest daughter's talents blossomed in several respects under Eric's guidance. For example, after acting in a number of shows she was entrusted, at seventeen years of age, to choreograph the memorable YAT production of 'Jesus Christ Superstar' in Kingston Parish Church, and a year later to play the lead in 'Elizabeth I'. She also designed the set and costumes for 'Macbeth'. This experience inspired her to take a degree in theatre design and she now works professionally in film and television.
Even those who have taken alternative careers are always quick to acknowledge the contribution that Eric Yardley and YAT made in their formative years and many of them continue their interest in theatre with TTC or other amateur organisations. The continuing respect and affection of past members of YAT is also evident from their support for reunions and like occasions. Rarely does a month go by without Eric receiving a visitor (some now middle-aged with their own families) or a letter from some faraway corner of the globe to recall a fond memory of YAT.
The motivation for Eric Yardley lies in his profound belief that Art and, in particular, Theatre are powerful forces for good in what is often a troubled world. He believes passionately that the theatre enhances the development of the individual and the cohesion of the community and society, and that it is an effective means of fostering national and international accord.
His will be a difficult act to follow!
Dennis joined YAT in 1986